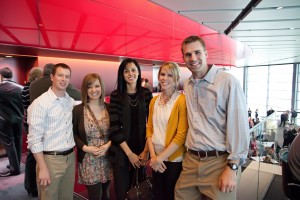 There"s always a first for everything!  On Friday, Dec. 23 McKinney Pediatric Dentistry held its first work Christmas party; the first of hopefully many to come.  To celebrate the good times shared in this inaugural year, our staff attended a play for our Christmas party.  Afterwards we went out to dinner where a tribute was given to each staff member in recognition of the unique talents and fun memories that each person has provided to McKinney Pediatric Dentistry.
We thoroughly enjoyed the 7 months which the office has been open for seeing patients.  It"s been full of fun and great memories!  We enjoy our patients and the fun they bring.  We love getting to know the parents of these wonderful children.  We give our best to loving and taking care of the families in and around McKinney.  We appreciate all of you who come to our pediatric dental office!  We definitely appreciate the many of you who have posted Google Reviews and Facebook recommendations to help us get the word out.  We assure you that we will always give our best to your kids!
One reason we enjoyed this year so much is because we enjoy working together as a pediatric dental team.  At McKinney Pediatric Dentistry, we have the best team of employees who work hard, who love the patients, and who are constantly caring and putting kids at ease during dental appointments.  We are so fortunate to have such a happy and cohesive work environment where we can assure that children and parents feel something refreshing in their visit to the pediatric dentist.  Enjoying the people you work with can sure make work fun, and not really "work" at all.  Kaitlyn and Angie have been great team members with because they do their job with the highest quality and know how to have lots of fun as they go about each day!
online casinocom/wp-content/uploads/2011/12/Cheesecake-Factory-21-300×200.jpg" alt="" width="300″ height="200″ />