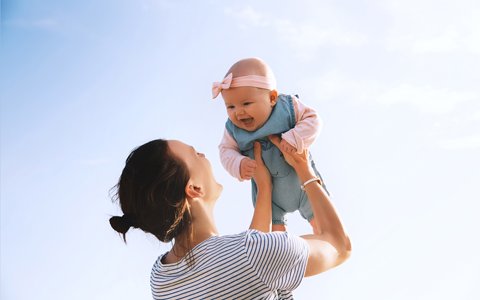 At McKinney Pediatric Dentistry, we believe that early oral health care is the key to a lifetime of healthy smiles. Our commitment to pediatric dentistry extends to the youngest members of your family, including infants aged 0 to 23 months. We offer specialized infant oral exams designed to ensure your child's oral health gets off to the best possible start.
Why Infant Oral Exams Matter
You might wonder why an infant needs a dental exam when they may not even have teeth. The truth is the foundations of oral health are established from the very beginning. By having your infant's mouth examined early, you are taking proactive steps to detect any potential issues and ensure their oral development is on the right track.
What to Expect During an Infant Oral Exam
Infant oral exams are gentle, quick, and informative. Our skilled and experienced pediatric dental team is trained to work with infants; they can make the experience comfortable and stress-free for both your baby and you.
Here's what you can expect during an infant oral exam:
Comfortable Setting: We create a welcoming and calming environment for your infant. Our dental professionals are trained to handle young patients with care and patience.
Gentle Examination: The exam involves a gentle inspection of your infant's mouth, gums, and any visible teeth. We will assess the overall oral health, check for any signs of decay or abnormalities, and monitor the progress of eruption if teeth are present.
Oral Hygiene Guidance: We understand that caring for an infant's mouth is different from caring for an older child's or adult's mouth. We'll provide guidance on proper oral hygiene practices for infants, including cleaning the gums and emerging teeth.
Nutritional Advice: Your infant's diet plays a significant role in their oral health. We'll offer nutritional advice to promote healthy dental development and overall well-being.
Answers to Your Questions: This is an excellent opportunity for you to ask any questions or address any concerns you might have about your infant's oral health.
Benefits of Infant Oral Exams:
Early Detection: Even before the appearance of teeth, an infant oral exam can identify potential issues such as tongue ties, lip ties, or any abnormalities that might affect your child's oral development.
Oral Health Education: Our dental team will educate you about proper oral hygiene practices for infants, including cleaning their gums and emerging teeth. This information empowers you to maintain your baby's oral health at home.
Establishing a Dental Home: By starting dental visits early, your child becomes familiar with the dental environment, making future visits more comfortable and less intimidating.
Prevention: Infant oral exams help prevent dental problems by addressing any concerns at an early stage. Early intervention can save your child from potential dental issues down the road.
Preparing for the Infant Oral Exam
Here are a few tips to help you prepare your infant for their first oral exam:
Timing: Schedule the appointment during a time when your baby is typically well-rested and fed, so they are more likely to be calm and cooperative.
Comfort Items: Bring along your baby's favorite comfort items, such as a blanket or toy, to help them feel secure during the exam.
Stay Calm: Infants are sensitive to their parents' emotions. If you remain calm and relaxed, it can help ease any anxiety your baby might feel.
Talk to Your Baby: Gently talk to your baby throughout the exam, reassuring them with your voice and presence.
Creating Positive Dental Experiences from the Very Beginning
At McKinney Pediatric Dentistry, we understand that the first experiences with dental care can shape a child's perception of oral health for life. Our dental clinic is designed to create a welcoming and comfortable atmosphere for infants and children. We prioritize building a positive relationship with our youngest patients, fostering trust and familiarity that will last throughout their oral health journey.
At McKinney Pediatric Dentistry, we believe in starting oral health care early to set the foundation for a lifetime of healthy smiles. Your baby's well-being is our priority, and we're here to support you every step of the way.