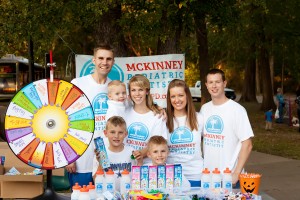 On Friday, October 21, McKinney families came out to the McKinney Community Center for the city"s 2011 Fall Festival!  McKinney Pediatric Dentistry joined the party!  The weather was perfect for a night full of family games and activities.  Kids, including Dr. Jon Schaack"s three boys, went from one event to another while winning prizes at the ball tosses, getting their faces painted, jumping in the bounce houses, and playing in the petting zoo.  When the sun went down, families enjoyed a movie under the stars from their blankets and lawn chairs.
Kids also lined up at our table to spin the McKinney Pediatric Dentistry prize wheel!!  We saw bunches of kids and we gave out toys, stickers, magnets, water bottles, tooth brushes, spin brushes, and t-shirts.   We loved the opportunity to meet many more great families in McKinney!
We enjoyed informing families that there is a fabulous new pediatric dental office in McKinney where kids can come and have fun, receive the attention they deserve, and at the same time get trustworthy and quality dental care.  Those families who have come in to visit McKinney Pediatric Dentistry have discovered the personalized care, fabulous staff, inviting and fun ambiance, as well as the kid-friendly and family-friendly experience that is provided.  Since McKinney Pediatric Dentistry opened just 5 months ago, many parents have posted online reviews of the positive experiences they and their children have had with Dr. Jon Schaack and his staff.  Check out what parents are saying about McKinney Pediatric Dentistry on Facebook and Google!  We hope for the opportunity to provide a great experience for your child.