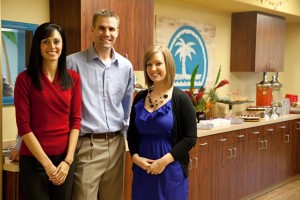 Families of McKinney and the surrounding area are interested to learn when there are new businesses local to them.  McKinney Pediatric Dentistry is a new and growing dental office just for kids and is conveniently located in the heart of McKinney, TX.  You can go to Google to see the many 5-star reviews that parents have been giving in just the first 6 months since opening.   McKinney Pediatric Dentistry is excited that parents are making all the community aware that there is a fantastic new place where your kids can relax, have fun, and be comfortable while they receive optimal dental care.
While parents have been spreading the word around the community, McKinney Pediatric Dentistry is working hard to ensure that other doctors and dental professionals in the community also know to where they can refer families.  An open house for such doctors and dental professionals was held at McKinney Pediatric Dentistry in which doctors and their staff members could walk through the office and visit with our wonderful staff.  We were delighted to have about 150 visitors that night!  El Fenix catered some delicious fajitas for all who came.  (Surprisingly, despite the large turnout, there was still an abundance of food in the end!  This kept Dr. Schaack and his staff happy for about a week of fajita leftovers!)
The open house was a great opportunity to inform others of the experience that kids and families receive when they are welcomed to our practice.  As other doctors or dentists find parents looking for a pediatric dentist, we welcome all who they may invite to visit us.  Parents who want their child to receive personal attention from a specialist in kids dentistry will find that McKinney Pediatric Dentistry is the fun, safe, and positive environment they are seeking.  We really do have fun every day at work thanks to our awesome team and thanks to all the fun and energetic kids that we get to "play" with every day.
Check out our photo album on Facebook to see pictures from the Open House!!